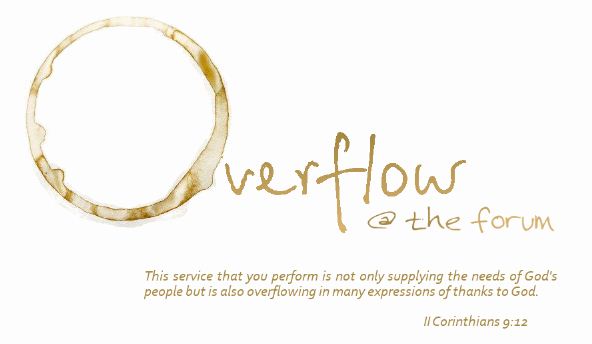 Overflow's portable java cart will now be at the Nampa Farmer's Market for the 2012 season!
For an in depth look, click below to watch a video about Overflow.
What is Overflow, anyway?
The Overflow Java Bar is a volunteer-run, full-service java bar that operates on Sunday mornings in our church's basement.
Overflow started over 5 years ago, and now the staff consists of Julia and Eric Reich, and about 14 teens each Sunday.
So, what's Overflow all about?
Overflow is basically our church's coffee house, located downstairs in the Family Life Center, in the Forum. It's a volunteer ministry that provides those behind the counter the opportunity to learn, work together, and serve others while raising funds to support student outreach.
When is it open?
On Sunday mornings from 8:45 – 9:30, Overflow is a full-service Java bar, where the church body can come and order coffee shop quality coffee drinks like lattes, or mochas for just $2, or even add in a muffin or whatever breakfast item we have that day.
How can I get involved?
People of all ages come place their orders and then sit and enjoy the company of other people in the church body for awhile. Really, everybody becomes a part of the ministry when they either come downstairs and order their coffee and snack, or place an order with one of our runners, who takes it up to their Sunday School class. As Overflow continues to expand, we'd love to see some more adults come and interact with the teens, or even come work behind the counter!