Pastor Brian felt called to ministry the summer before his Freshman year in high school in Toronto, Canada, at NYC 1999. After 2 years of community college in the Puyallup, WA area, he moved to Nampa to attend NNU. During college, Brian volunteered under Pastor Nate for 2 years before becoming an apprentice. After a year of apprenticeship, he served as a part-time youth resident for an additional year before being asked to come on full-time as the Associate Youth Pastor for Nampa First Church of the Nazarene in May of 2011.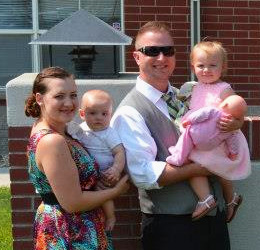 In 2009, Brian was married to Ashleigh LeBaron, who has attended First Church all her life and whose parents own LeBaron's Honker Cafe in downtown Nampa. They had their first daughter, Brileigh Jean, in August of 2011. Their son, Bralen, was born in early 2013, so they are busy!
Pastor Brian's passion is plugging teenagers into Christ and seeing His love take hold of their lives. An on-fire teen is a force to be reckoned with...and we have lots of them at NFC! It should also be mentioned that Brian is a die-hard Seahawks fan. Kakaaw!!