Humble Beginnings
First Church of the Nazarene came into being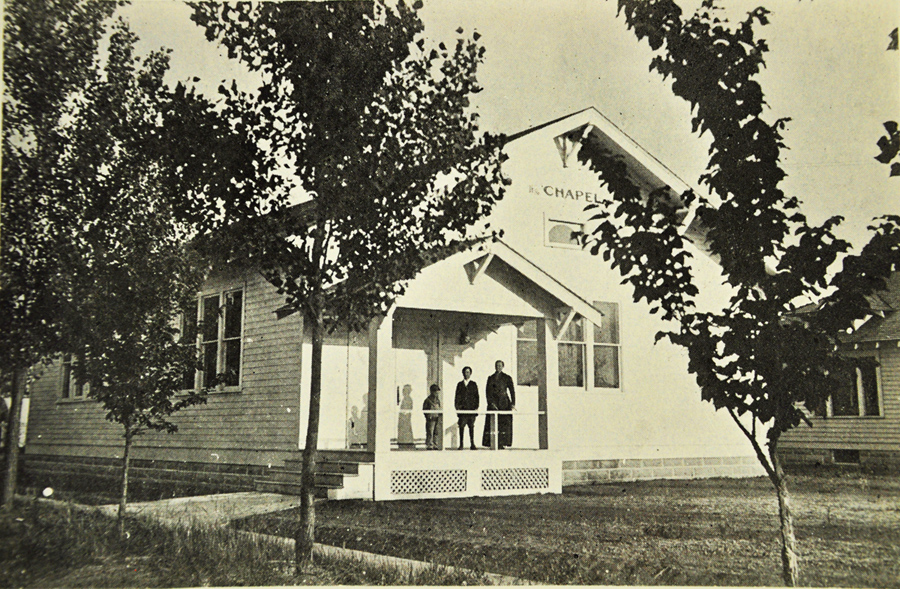 because of the vision and effort
of Mr. Eugene Emerson. He envisioned a place where people could hear the "old-fashioned Gospel" preached. On the night of April 17, 1913, he reached his decision to build a church and began planning the Nampa church the next day. He erected a 40x60 ft. chapel at the site where the church now stands (pictured right).
On the first Sunday of August, 1913, formal organization of the church took place. "Uncle Bud" Robinson assisted in the dedication of the structure, in which 13 charter members worshipped under the leadership of their pastor, Michael Ennis Ferdinand. From these 13 charter members, Nampa First Church has continued to grow throughout the years, and now has 1,860 members who are active in their faith and their community.
Ties to NNU
During this same year of 1913, Eugene Emerson orchestrated the first classes at the Idaho Holiness School, which changed its name to Northwest Nazarene College in 1916, and Northwest Nazarene University in 1999. Nampa First Church of the Nazarene has had strong ties with Northwest Nazarene University since their inception. In fact, one winter, the college did not have enough coal for heat, and Nampa First Church donated their supply of coal to the college – NFC members wore their winter attire during church, and were happy to support the college! From Eugene Emerson's day to today, Nampa First Church remains a strong supporter of the University, and many of NNU's professors, faculty, and students are members and regular attendees of First Church.
The Church Building
The first church building for Nampa First Church was built in 1913 (shown in the picture above).
Around 1950, construction was complete on NFC's church building; a white stucco building featuring a John 3:16 sign on the steeple.
Around 1960, construction of a new sanctuary featuring a wood arched cathedral ceiling began. This building, now known as Ferdinand Hall, was NFC's main sanctuary until the construction of the new sanctuary was complete in 1977.
As the church body continued to grow, it became apparent the church building was going to need to grow as well.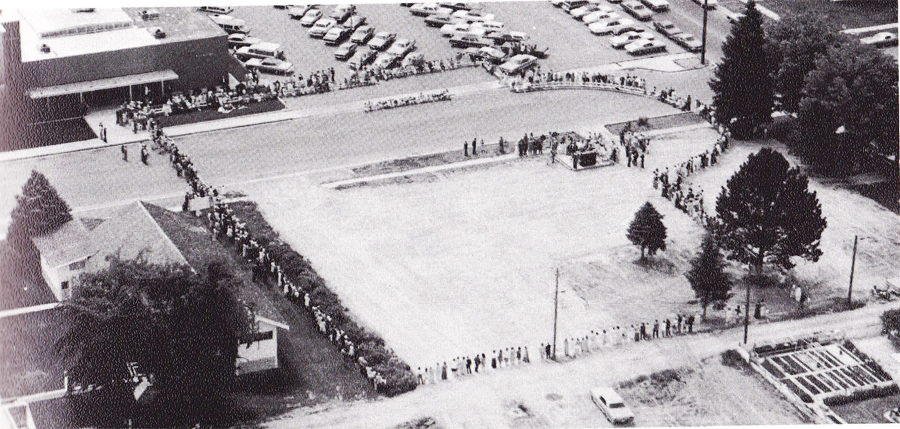 Pictured to the right is the congregation of about 1,000 on a "faith walk" in the mid 1970's, outlining the perimeter of what would become the new sanctuary. Construction of the 50,000 square foot sanctuary began in 1976 and was dedicated in 1977 by Pastor Charles Higgins. This building is still in use, seats 1,750 in the main sanctuary, and has many rooms surrounding the sanctuary's perimeter used for Sunday School and other meetings.
Construction of the Family Life Center began in 2000 and was completed in 2001. This building features a gym, nursery, areas for children and youth, and the church administrative offices.
Nampa First Church's Pastors
1913: Michael Ennis Ferdinand
1915: Harry Hays
1915 – 1916: Lewis I. Hadley
1916 – 1917: Earnest E. Turner
1917 – 1918: G. Arnold Hodgins
1918 – 1919: James W. Short
1920 – 1921: C. Howard Davis
1921 – 1922: J.T. Little
1923 – 1927: R.J. Plumb
1927 – 1929: E. E. Mieras
1929 – 1935: E. E. Martin
1935 – 1940: J. Russell Gardner
1940 – 1951: Melza Brown
1951 – 1952: Irving F. Younger
1952 – 1960: Raymond Kratzer
1960 – 1966: Earl G. Lee
1966 – 1972: Arnold E. Woodcook
1972 – 1983: Charles Higgins
1983 – 1991: Jerry White
1991 – 1994: J. Dennis Johnson
1995 – 2002: Stephen Borger
2002 – 2014: Kent Conrad

Current Pastor: Brian Thomas