Nampa First Church Facilities
The Nampa First Church of the Nazarene facilities are intended for the use of its church members and programs.
When not in use for our own programs & activities, the buildings may be used by local groups and individuals on a scheduled basis for spiritual, social, cultural, or recreational activities. Nampa First programs will have first priority at all times. Please feel free to review our Facility Use Policy and then contact us if you have additional questions.
Facility Use & Equipment Forms

("Green Forms")

are used to request specific facilities, rooms, and set-ups for your desired event. You must fill it out completely and submit to the Facilities Coordinator..
Vehicle Use Forms ("Yellow Forms") are used to request use of an NFC Vehicle. Please submit this form to the Facilities Coordinator.
Weddings at Nampa First Church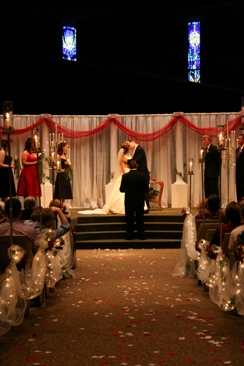 We believe that marriage is a gift of God; a lifelong,
Christ-centered union between a man and a woman.
The wedding service is an act of worship with its focus upon you
as you express vows to God and to your partner for life.
We would love to plan for your wedding to be one of the most joyous
and beautiful events of your life.
We offer facilities, equipment and personnel to help make your wedding and reception a dream event for you to look back on over the years.
For more information, please contact the Facilities Coordinator
at (208) 466-3549 ext. 3113.